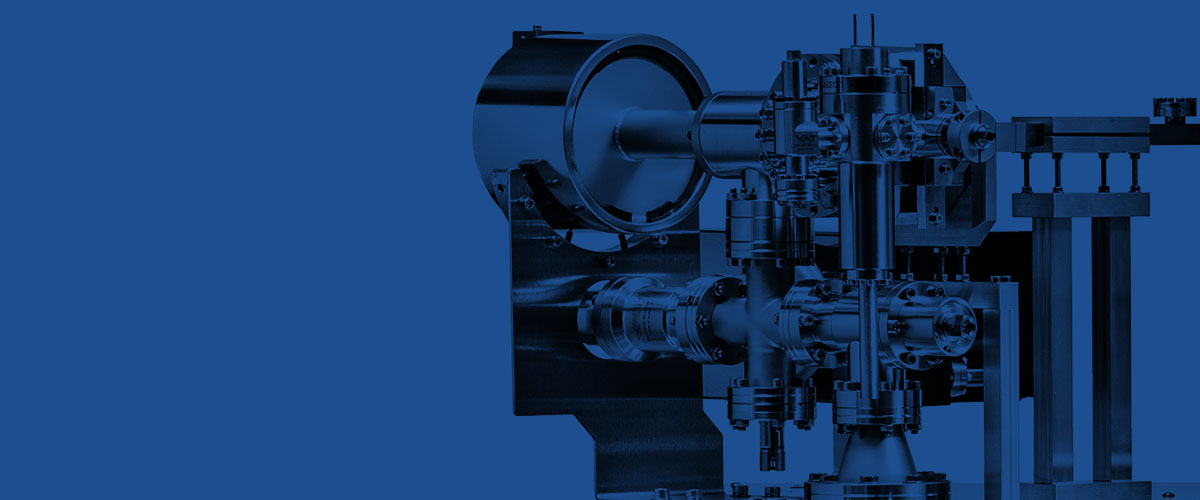 Noble Gas
NGX
NGX static multi collector noble gas mass spectrometer
Features and Benefits
Patented ATONA® Faraday amplifiers
NEW high-sensitivity, low-temperature cathode source
Up to 9 Faradays with optional multiple ion counters
Low volume design for maximum sensitivity
Large radius electromagnet for optimal transmission, resolution, and stability
Fixed multi-collector simplifies instrument construction, lowers collector volume and increases sensitivity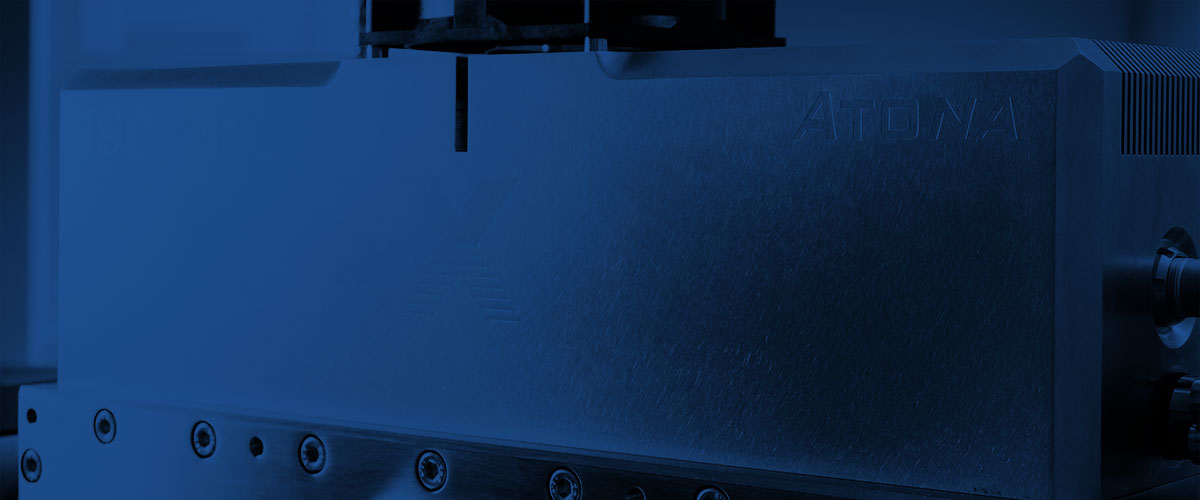 ATONA® amplification means lower noise, larger dynamic range and easier set-up for ultimate instrument flexibility and measurement precision
Product Description
The NGX is our static multi collector noble gas mass spectrometer designed to measure isotope ratios of any of the noble gases at high precision and accuracy. It uses conventional 1:1 ion optics with the very latest electronics to give simple fixed multi-collection coupled with high performance and sensitivity.
NGX was developed as the culmination of over 40 years of experience in noble gas magnetic sector mass spectrometry. It uses two recently patented developments: a high-sensitivity, low-temperature cathode source and high dynamic range ATONA® Faraday amplifiers (learn more) combined with advancements in electronics and design to produce a truly outstanding instrument.
Developed in collaboration with noble gas users around the world, NGX can collect any of the noble gases. It retains the simplicity in operation of previous generation instruments but uses modern developments in design and manufacture to produce state of the art performance. We have delighted customers in a number of prestigious noble gas labs around the world.
Key Features
Patented technology: High dynamic range, electronically calibrated ATONA® Faraday amplifiers
Patented technology: High-sensitivity, low-temperature cathode source
Up to 9 fixed long-life Faradays with optional multiple ion counters for peak jumping
Low volume design maximising sensitivity and lowering the instrument footprint
Large radius electromagnet for optimal transmission, resolution, and stability
Nier type source operates at 8kV accelerating voltage to maximise sensitivity across the mass range
NGX is fully bakeable to 350°C and includes an in-line SAES GP50 getter pump ensuring a low background static vacuum
Use of a fixed multi-collector greatly simplifies instrument construction, lowers the collector volume and increases effective sensitivity. It also greatly simplifies instrument operation since no zoom lens or movable optics are required
An ultimate vacuum of 10-10 mbar is achieved using 2 separate pumps: an 80 l/s turbo-molecular pump backed with an oil-free diaphragm pump and a 40 l/s ion pump
Newly developed software providing unparalleled control and analysis for tailor made applications as well as repetitive analyses
Fully networkable to permit remote control of the instrument
ATONA®
The unique, patented ATONA (aA to nA) amplification technology from Isotopx has eliminated the need for a feedback resistor. The outcome is a significant reduction in amplifier noise, a dramatic increase in dynamic range, rapid amplifier decay, and improved baseline and calibration stability. But what does this mean for your analysis?
In practice, this means analysis of signal sizes from tens of counts per second to nanoamps (hundreds of volts) with lower noise than any resistor-based amplifier. So you can analyse a wider range of sample sizes than ever before, with more confidence in your data.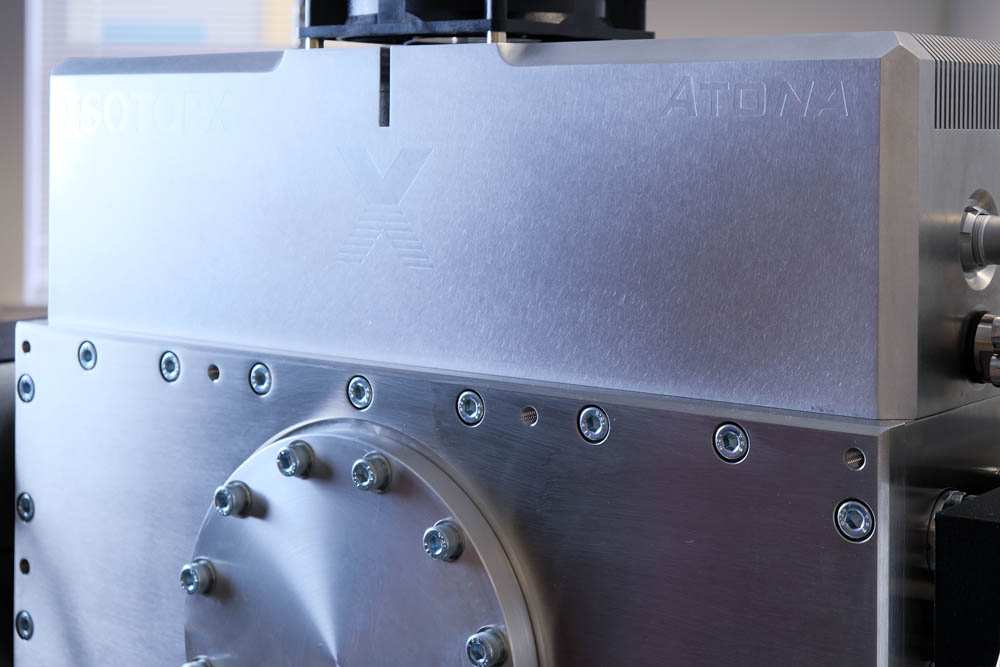 Preparation Systems
Sample introduction can be a challenging and time-consuming part of noble gas sample analysis. Isotopx supply extraction lines for preparation and clean-up of noble gas samples or standards. Our extraction lines are constructed from stainless steel and mounted on a flexible aluminium frame giving good accessibility during use and allowing for easier upgrades. All lines are software controlled and can be baked to 350 degrees Celsius to ensure clean preparation systems. A high level of customisation is possible during design and Isotopx work closely with the end-user to agree the final specification.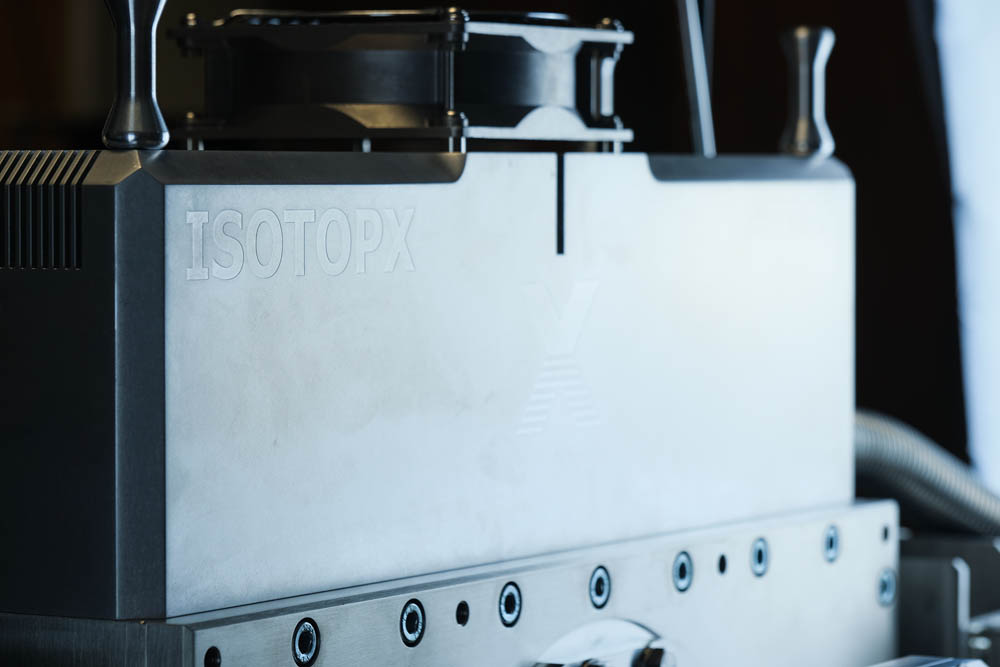 Software
The NGX has been designed for fully automated operation. All system parameters are controlled via the PC including all pneumatic isolation and inlet valves, source tuning parameters, magnetic current of the analyser and detector selection. Furthermore, instrument monitors are displayed through the software including ion gauge and ion pump readbacks, turbo pump speed and temperature, valve status and all source tuning parameters. The NGX software is optimised to make full use of the instrument's leading-edge electronics. Operating under Windows® 10 it provides dedicated data acquisition, control, error reporting & data processing.
Software features
Real-time display of source parameters, system vacuum status and collector readings
Advanced charting tools for easy visual analysis of collector intensities in mass scanning and intensity tuning modes
Includes mass and intensity markers, history scans, user annotations capabilities etc.
Provides calibration & profiling tools, e.g. peak resolution, mass resolving power, source consumption, amplifier gain calibration etc
Allows easy access to all system parameters for manual control
Provides a time stamped log forming a record of all system activity
Exporting of raw data in various third-party formats
Comprehensive analysis method editor and reporting tools
Support for external inlet and furnace systems
Remote Control Server (RCS) which allows the end user to communicate to the NGX using TCP/IP
protocol via other software programs or languages e.g. Labview, Pascal, C, C++, ArArCalc, Pychron, MassSpec.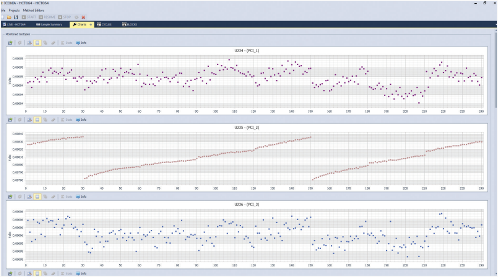 Upgrades
Electronics Upgrade Package
Noble gas mass spectrometers are built to last. There are no moving parts and the vacuum envelope will become cleaner with time as the instrument is periodically baked. However, the electronics and software on the instrument will become dated, unreliable and unsupported by instrument manufacturers. For the user the only option would be to buy a new instrument which may not be possible. Our electronics upgrade package addresses this situation with new electronics and software to control existing older instruments. At a minimum the upgrade will offer the same electronics stability as current electronics on the NGX noble gas mass spectrometer, which will continue to be supported by Isotopx. Contact us to find out if your instrument is eligible for an electronics upgrade.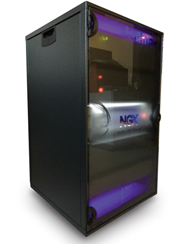 Resources
NGX Helium Plus

The new standard in high precision helium isotope analysis The analysis of helium isotopes can be challenging. Your instrument needs the resolution, the sensitivity, and the abundance sensitivity to allow you to have confidence in your measurement. You need the same result, day after day. And what if you want to analyse other noble gases…

NGX-600 Noble Gass Mass Spectrometer

Noble Gas Mass Spectrometry is used to study the isotopic composition of the noble gas group of elements – helium (He), argon (Ar), krypton (Kr), neon (Ne), xenon (Xe). They can be used for dating e.g. Argon isotopes, or as isotopic tracers in earth and cosmochemical evolution. The NGX-600 mass spectrometer from Isotopx is the…

Noble Gas Mass Spectrometer Electronics upgrade package

Noble gas mass spectrometers are built to last. There are no moving parts and the vacuum envelope will become cleaner with time as the instrument is periodically baked. However, the electronics and software on the instrument will become dated, unreliable and unsupported by instrument manufacturers. For the user the only option would be to buy…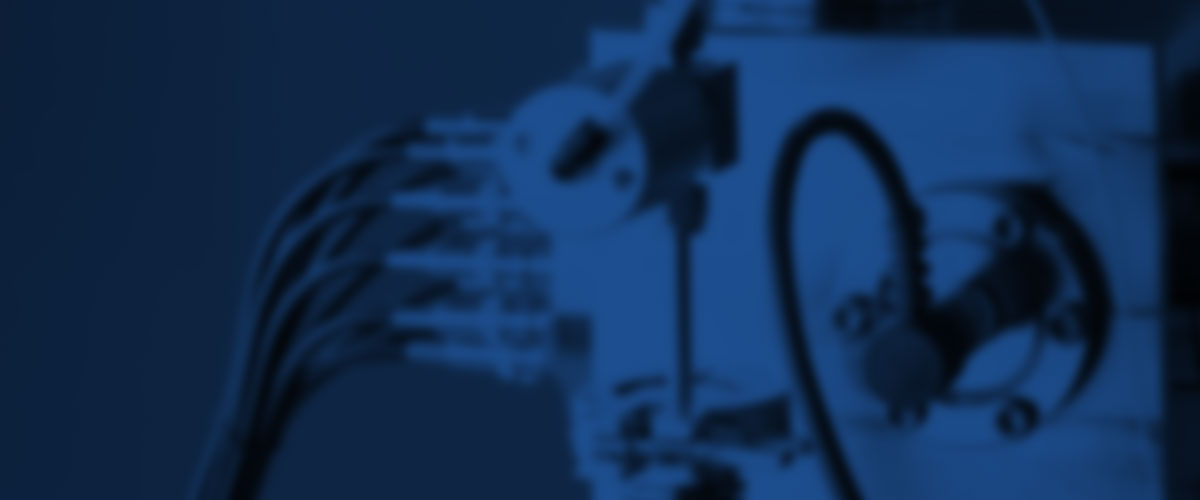 Contact one of our experts today to find out how NGX could better enable your isotope ratio measurements