World class mass spectrometry

Our ground-breaking thermal ionization mass spectrometers (TIMS) trace their heritage back to 1973

Meet SIRIX, our gas source IRMS

Its intuitive design helps optimise specific applications and increase throughout

Innovation at the heart of product design

Noble gas isotope ratios measured with high precision and accuracy using our NGX multi-collector noble gas MS
Spotlight
TIMS
Phoenix
The Phoenix TIMS combines our proven source design and optics with newly developed detector technologies to produce the highest precision data. The Phoenix is completely customisable to suit the needs of your lab now and future-proofing your lab for new applications.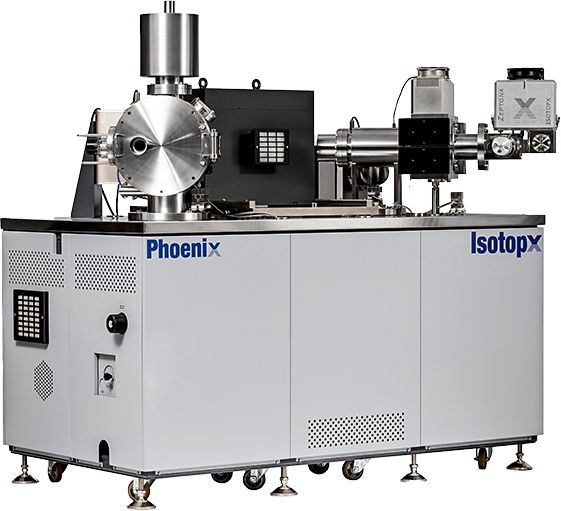 Latest from our blog
At the end of last year, I attended the AGU (American Geophysical Union) Fall Meeting in Chicago. The attendance was pretty good, almost what it used to be pre-Covid, and interaction between visitors and the exhibitors was good. That's particularly important to organizations like Isotopx that serve a very niche community with few opportunities to…
Latest News & Events
We're delighted to announce that Isotopx won the "Export and International Trade Award" at the Cheshire East Business Awards 2023, held at the beautiful Cranage Estate. This award pays testament to the hard work done by Zenon and the rest of the team over the years to help enable isotope ratio science across the globe….
The Geological Society of America (GSA) is a global professional society with more than 19,000 individual memberships in more than 100 countries. Their vision is to be the premier geological society supporting scientific discovery in the global community. The GSA aims to advance geoscience research and discovery and support the geoscience profession. The 2023 meeting…
We are pleased to announce that Isotopx will be attending the Geochemistry Group Research in Progress (GGRiP) meeting in Cambridge, UK from 18-20 April this year. GGRiP is an annual meeting run by the Geology Group for all geochemists. The organisers particularly encourage PhD students and early career researchers to present their research in this…