Services we can offer include:
On-site fault diagnosis and repair
Remote diagnosis (where laboratory internet implementation permits)
Repair, testing and upgrading of electronic units
Relocating instruments
Hardware and collector upgrades
Preventative maintenance visits to detect and avoid any costly future problems
Tel: +44 1606 839810
Email: service@isotopx.com
Your TIMS system is special, so why get it serviced by non-specialist engineers?
Service Plans
Whether you require a one-off PM visit or a multi-year service plan, Isotopx provides versatile and cost effective solution to your needs. Service plan customers always receive priority service and can additional benefits such as discounted on-site support and free software upgrades. If you need to maximise up-time then an Isotopx service plan is the best way to guarantee the fastest response from the most experienced engineers.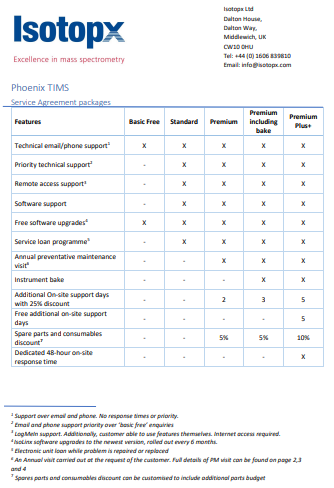 Spares
Isotopx carry spares for all of our recent instruments as well as many older VG systems. As instruments become older it inevitably gets harder to find replacement parts, particularly electrical and computer components, many of which have long become obsolete.
Recognising the importance of maintaining older isotope ratio mass spectrometers, Isotopx has a number of programs in place designed to identify key components in older systems and make sure that modern replacements are available. At the same time we endeavour to make sure that as far as possible, the latest developments on our newest machines are available as upgrades on older systems. We recognise the magnitude of your investment and as far as possible will ensure it is maximized.
Turret Assembly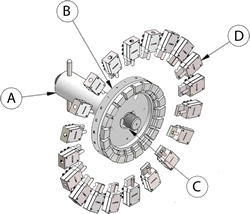 | | | |
| --- | --- | --- |
| Item | Part | Part Number |
|   | 20 bead complete assembly | M611002CC2 |
| D | Separable bead block (1) | M577072CD1 |
|   | BALL SS GRADE 316S16 DIA 0.25 INCH | 6365101 |
|   | Grub screw to hold bead block to turret | M247255AD1 |
|   | Compression spring to hold bead block to turret | T1038058 |
|   | Triple filament jig alignment tool |   |
| C | Circlip for mounting handle | T1026032 |
Filament Holder
| | | |
| --- | --- | --- |
| Item | Part | Part Number |
| 2 | DIA 2MM X 6 DOWEL PIN | 5371002 |
| 3 | Silver plated M2 x 6 screw to hold filament | M577077AD1 |
| 4 | DIA 4MM X 16 DOWEL PIN | T1035044 |
| 5 | Exit slit (1000) | M247846BD1 |

Filaments

| | | |
| --- | --- | --- |
| Item | Part | Part Number |
|   | PRE FILAMENTED |   |
| 6 | Inner Ta Filament M625024A (box of 25) | T4002578 |
| 8 | Outer Ta Filament M625023A (box of 25) | T4002579 |
| 7 | Centre Ta Filament M625026A (box of 25) | T4002580 |
| 6 | Inner Re filament (box of 25) | T4002581 |
| 8 | Outer Re filament (box of 25) | T4002582 |
| 7 | Centre Re filament (box of 25) | T4002583 |
| 6 | Inner W Filament (box of 25) | T4002584 |
| 8 | Outer W Filament (box of 25) | T4002585 |
| 7 | Centre W Filament (box of 25) | T4002586 |
| 6 | Inner zone refined Re filament (box of 25) | T4003087 |
| 8 | Outer zone refined Re filament (box of 25) | T4003086 |
| 7 | Centre zone refined Re filament (box of 25) | T4003085 |
|   | BLANK FILAMENTS |   |
| 6 | Blank inner filament (box of 25) | T3008827 |
| 8 | Blank outer filament (box of 25) | T3008828 |
| 7 | Blank Centre filament (box of 25) | T3008829 |
|   | RIBBON |   |
|   | Pt filament ribbon (0.0012inch x 0.030inch) | T1042681 |
|   | Re filament ribbon zone refined | T1042333 |
|   | Ta filament ribbon (0.025mm x 0.76mm) | T1040269 |
|   | Re filament ribbon (0.025mm x 0.76mm) | T1040141 |
|   | W filament ribbon | T1041050 |